I started writing this entry almost a month ago. I didn't have time to finish and meant to pick up the next day. Huge shock, I kept getting sidetracked. Where does the time go? Anyway, I'm leaving it as is. It's relevant, even if it's almost a month later . . .
Ten years ago today I was in Boston at Ten Yard Fight's last show. I got a Bane windbreaker, got really lost in Boston, drove home almost 7 hours after the gig, saw some Sox fans chase a car full of Yankees fans down the street while waiting in line and witnessed a show that now commemorates what most people in the hardcore world regard as Edge Day. Ten years later I am sitting at home in my living room typing a blog update on a computer instead of seeing some awesome hardcore bands (one of whom is playing their last show) and hanging out with good friends. C'est la vie.
While not being in Boston tonight is a bummer, I did get to come home to a package with 4 Not Sorry 7" test presses inside. It's not Edge Day, but it'll do!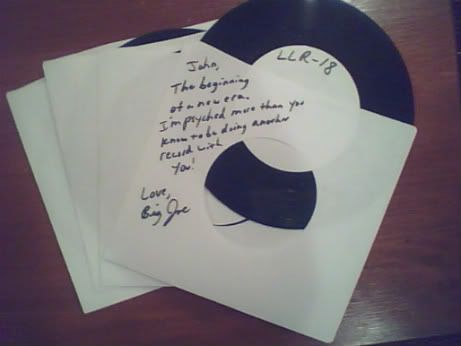 Moving On test presses, with a nice note from Joe Lifeline.
For those of you not in the know, we have a 7" coming out entitled MOVING ON. The US pressing is being done by my personal and long time friend Joe Rieman who runs a label out of Chicago called
LIFELINE RECORDS
. It was around 10 years ago that Joe started Lifeline with a 7" from my old band XHead OnX. We were both much younger then, and have done a variety of things since that time, but we've always remained friends. Which makes this release very cool for both of us. The European version of the 7" is coming out on a label called
SALAD DAYS RECORDS
from Portugal. It is run by a fine gentleman named Dave Rosado. Now, I wouldn't know Dave if he showed up to my house right now, but we've emailed back and forth multiple times and trust he's going to do an awesome job over there. And, hope that we'll get to meet him and develop the type of relationship I have with Joe. Dave has played in and plays in a few bands some of you may know. Currently he is in
Pressure
and
Broken Distance
and he formally played in
Pointing Finger
. All great bands, make sure to check them out.
It's now November 11, 2009 . . . A couple days back, Big Joe sent me a picture message with this photo . . .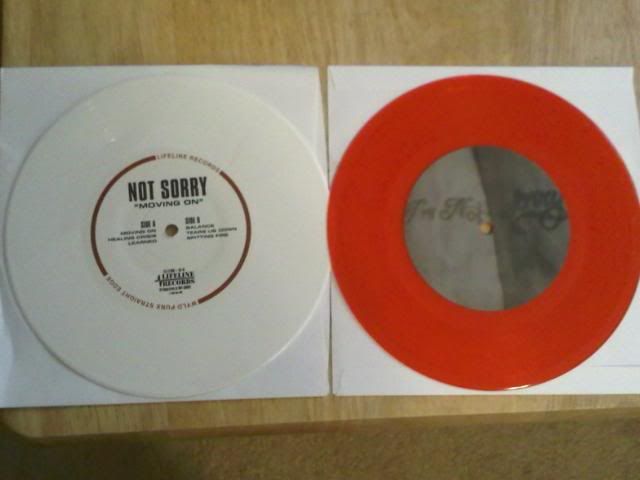 A new era!
We all couldn't be more psyched. Lifeline should be taking preorders for this very soon, if not sooner.
Lastly, we also wanted to let everyone know that we're now on
React! Records
. Aram is a good friend and we're excited to be on his label. Honestly having two long-time friends of mine both being into my band enough to want to help us release music is a very awesome feeling. I'm looking forward to developing even better friendships with Joe and Aram, along with Dave at Salad Days.
- John/NSC
ps: There are currently two interviews up with us. Our friend Rory from Soul Control does a blog called
From The Road . . .
and Pat from Forfeit has a zine/blog called
New Noise
, besides us he has interviews with Reaper Records, Polar Bear Club, Triple B Records and Foundation. Both are awesome and Pat's first issue of New Noise looks great. We'll have some copies with us on the East Coast, make sure to pick one up.